BDCS Started On-dock EMR Service in SGICT
BDCS (Brigantine Dewell Container Service Co., Ltd.) has done EMR on-dock services inside SECT for more than 1 year since 1st April, 2009 and earned a good reputation in SIPG (Shanghai International Port Group) for good quality, professional management and harmonious customer relationship.
BDCS has reached an agreement with SGICT (Shanghai Guangdong International Container Terminal Co., Ltd.)  for on-dock container- release and EMR services since 1st August 2010 to allow BDCS to expand our on-dock services into Yang Shan Terminal.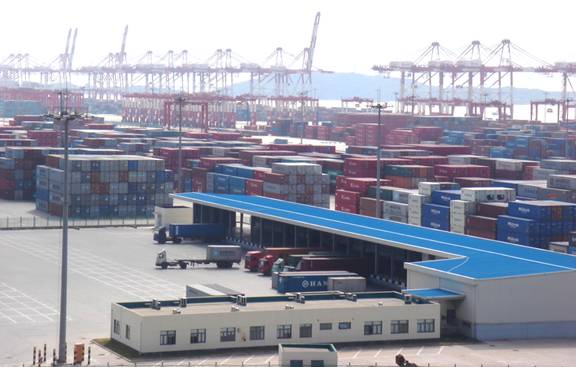 SGICT, a subsidiary of SIPG, manages the daily operation of the No.3 and No.4 terminals in Yang Shan deep-sea port area. The quay with a length of 2,600 meters comprises of 7 post-Suez class berths which can accommodate mega vessels with dead-weight between 70,000 - 150,000 Tons. The annual throughput capacity is above 5 millions TEUs.
Compared with off-dock EMR service, on-dock EMR service will bring more value to liners and other customers.
First thing is on cost-control. For off-dock repair, Lines must have containers trucked into off-dock depots where the damaged containers could be repaired. If repair is conducted on-dock, damaged containers can be directly positioned into on-dock EMR facility for repair. Thus, trucking cost is saved as well as lift on and lift off cost can also be saved. It also decreases potential risk of container damage during on-truck and off-truck loads.
Secondly, lines can benefit from increased equipment turn-over rate. Sound containers in the terminal are released to shippers directly. Damaged containers are repaired within the terminal and then released to shippers which will eliminate idle time and increase efficiency.
In the third place, on-dock EMR and container-release bring more convenience to lines in operation. For example container-handling equipment will travel less distance and containers can be more easily ready for repair or release. In addition, EDI will be more efficient and prompt as the process of container trucked into off-dock depot is omitted. All of these will enhance liners or container-owners better controlling their assets of containers.
Lastly, intermodal service can be improved as well. Empty-containers into hinterland cities or river ports are mostly transshipped in Shanghai, as a major hub port. On-dock service setup shall facilitate intermodal empty container transshipment into hinterland area. This will improve their in-land service and as a result in-land shippers shall benefit from higher equipment availability. Also if the repair capacity and/or quality is lacking in the inland location, the containers can be repaired on-dock to ensure only sound containers are positioned into the inland shippers.
As a wholly new service in Shanghai, on-dock EMR and container-release service will bring values to customers. At the time being, several Lines have seen the benefits and are negotiating with SGICT and BDCS for on-dock services. BDCS is expecting to bring more values to more customers, who shall benefit from the on-dock services and achieve cost-leadership with BDCS quality service.
Please feel free to contact us if you are interested in our on-dock services:
Mr. Tony Tang
Tel:86-21-61820186
Fax:86-21-61820136
Email:mng@brgdewell.com Or tony.tang@brigantinegroup.com