December 2010
Welcome!
Dear Customers,
Thank you very much for your feed-back to our customer survey. It will help us in becoming better and address the issues that are relevant for you. We will in details go through your comments and try rectify our ways of doing business where it make good sense to our customers.
In this newsletter you can also read about our latest location, Fuzhou in the Fujian province. We are now ready to receive your business.
We have also moved depot location in Yantian allowing us to continue our growth in 2011 through a bigger depot allowing us to repair more and faster.
2010 is getting close to an end and though we saw a relatively weak 4Q then the full year has been very good for the shipping industry and with all Lines back in the black. This is a great achievement and we are confident that 2011 likewise will be a profitable year for most. We will also start our discussion with you to ensure we have the right terms in place for 2011 allowing us to deliver superior EMR services and repair speed.
Thank you for 2010 and we are looking forward to continue to work with you in 2011.

Wish you a merry Christmas and a prosperous New Year.
Yours faithfully,
Paul Erik Andersen
Chief Commercial Officer
Email︰paul.erik.andersen@brigantinegroup.com

It is with great pleasure we share with you that the annual Customer Satisfaction Survey for 2010 for Brigantine Group has been concluded with great success. We thank you for your kind support in giving us valuable feedback and comments. The feedback and comments received will be of great use for Brigantine Group to improve our services and provide us the guidance on business planning for future growth opportunities.
As a token of our appreciation, all customers submitting the completed survey were entered into a lucky draw for some fine red wine. Total 5 winners were drawn; they are APL, China Shipping, Forever Red, Hanjin and Maersk Line. Congratulations to the lucky draw winners and our wholehearted thanks to all who responded to the survey!
Also we are looking forward to receiving your valuable comments at anytime for continuous improvement.
Fuzhou Off-Dock
Equipment Maintenance & Repair Service
Following the successful EMR/Depot service set up in Xiamen Area, Brigantine has joined hands

with the depot management expert, Fujian Golden Transportation Logistics Co., Ltd, to provide off-dock EMR service to shipping lines and leasing companies effective from Nov.18, 2010. The new depot facility is situated just 0.5 KM away from Fuzhou Jiang Yin International Container Terminal.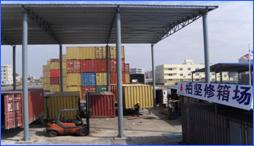 With more than 2,500 square meters of repair area in Jin Yun Depot, our current off-dock team can repair up to 60 units per day with high quality. This off-dock service helps the shipping lines to get depot storage and container repair as one service package.
With this milestone in our development and expansion of Brigantine into FujianProvince, Fuzhou off-dock will give our customers more benefits and choices.
For more information on Brigantine Fujian services, please visit www.brigantinegroup.com or contact Mr. Max Ye at +86 138 5007 7685.
New Brigantine Depot in Yantian

Brigantine Group is very pleased to inform you that our new Yantian Depot A (Address: East End, Haijing 2nd Road, Yantian District, Yantian, Shenzhen, PRC.) will open for business in December 2010. Being one of the market leaders in the equipment maintenance and repair services, Brigantine is committed to provide all our customers with high quality services at a reasonable price.
With the new 30,000 sqm depot soon in service, there will be plenty to offer. Apart from bigger storage space and better depot facilities, the new repair area in the new Depot A will enable us to increase our daily production to 200 units/day - A solution that will help all shipping lines against equipment shortage and improve turnaround time!
Action speaks for itself; Brigantine is ready to provide you an upgraded service in Yantian and strive for a closer partnership between our companies. For more information, please contact our commercial team at +86 755 2527 9940 or email to alan.cheng@brigantinegroup.com .

Our Service in West Pearl River Delta
As we promised in the previous Brigantine e-Letters, Brigantine will continue its expansion in 2011, making it easier for you to grow your business through one repair point of contact. One of our 2011 expansion priorities is our setup plan in the West Pearl River Delta (WPRD), which is currently designed to roll out in three phases:
Phase I   :  Pilot Repair Site set up in 6 months (Zhongshan City / Jiangmen City)
Phase II  :  Second Setup in 12 months (Jiangmen City / Rongqi)
Phase III :  Broader WPRD coverage in 18 months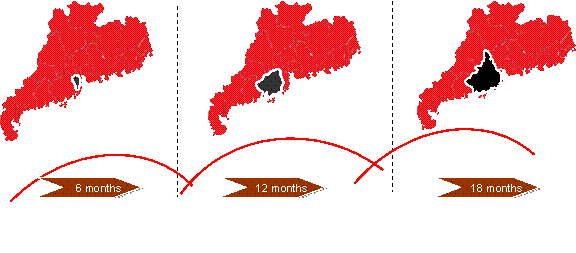 To ensure that we are aiming at the right locations of your interest, it would be greatly helpful if we could discuss with you on your interested locations in WPRD and the scope of service needs in the near future. We are absolutely delighted to listen to your service interests and requests, to serve you better. 
For any specific issues in regard to our WPRD setup plan, please feel free to contact me directly.
It certainly looks like that 2011 is going to be an exciting and rewarding year. On we go!
Samuel Lu
Senior Manager, Business Development
Email      : samuel.lu@brigantinegroup.com
Mobile     : +86 186 8879 1067
Copyright 2010 © Brigantine Group. All rights reserved.