Company History
Future
Investigations underway for new sites in India, Vietnam, Malaysia, Northern Taiwan, the Yangtze River delta, Africa and Oceania.
---
2014
Brigantine Xiamen set a new depot named Luqiao in Xiamen.
Brigantine Qingdao expanded further to LinYi and DongYing.
Brigantine Tianjin set a new depot named DongJiang in Tianjin
---
2013
Brigantine established strategic partnership with CIMC, becoming a joint venture of APM Maersk and CIMC.
---
2012
Brigantine Headquarter moved from Hong Kong to Shenzhen.
---
2009
Furthered expanded and started own operations started in Xiamen, Guangzhou, Xian, Lianyungang, and Dachan Bay.
---
2008
Continued cooperation and expansion in Shanghai led to a joint venture "Brigantine Dewell Container Services Co., Ltd" with the Dewell (Group).
Brigantine Goldlion Container Services Co Ltd was formed in Tianjin further expanding our presence in Tianjin.
Opened our second marine reconditioning workshop in Fengxian district of Shanghai; and also an ondock container repair in Xiamen.
---
2007
Further expansion to Dalian with establishment of a joint venture "Dalian Jilong Brigantine Container Services Co., Ltd" with Dalian Jilong Logistics Co., Ltd.
---
2006
Expanded operations to Ningbo, Suzhou, and Tianjin.
---
2005
Integrated with Constar Holdings Limited, Taiwan.
---
2004
Expansion into Qingdao via Brigantine entering into a joint venture with SMART International Logistics Co. Ltd and established SMART Brigantine ( Qingdao ) Container Services Co., Ltd.
---
2002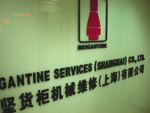 Outside the Guangdong province, Brigantine Services ( Shanghai ) Co., Ltd. was set up in Shanghai. Also, Brigantine invested HK$16 millions on upgrading the Marine Workshop in Hong Kong. On Aug 2002, the Yuen Long headquarters completed a further expansion of the depot facility to nearly 36,000 sqm.
---
2001
Brigantine entered into a joint venture with Malaysia's Port of Tanjung Pelepas (PTP) and established Pelepas-Brigantine Container Services Sdn. Bhd. (PBCS) at Johor, Malaysia
---
1999
The first step to expand outside Hong Kong was made. Brigantine Services (Shenzhen) Co., Ltd. (BSSCL) was established, locating at Yantian port, Sha Tou Jiao and Chiwan, China.
---
1994
Brigantine Services Ltd merged with Commercial Containers Ltd. and moved to Yuen Long Industrial Estate, New Territories on 26 April 1994. Prince Joachim of Denmark presided over the grand opening with more than 300 guests. The Yuen Long facility covered over 23,000 sqm with total investment amount of HK$220 millions. The merger brought about the change of Chinese name into "栢堅貨櫃機械維修有限公司" and led the depot becoming the largest one in Asia.
---
1989
Brigantine's Chinese name "栢堅貨櫃機械維修有限公司" was chosen.
---
1975
In 1970's, poor global economic conditions took their toll across all industries in Hong Kong reducing the needs for the Shipbuilding business.
---
1969
To cope with rapid growth, the Shipbuilding Department and Pipe Fitting Department was moved to Yau Tong Bay, Hong Kong.
---
1968
Main office moved to San Po Kong, Hong Kong with establishment of an Electrical Department, a Shipbuilding Department, and a Pipe Fitting Department. The number of workers increased to 200.
---
1966
A machine repair workshop was setup at Tai Kok Tsui, Hong Kong.
---
1956
Brigantine Services Limited began on 12 May 1956.